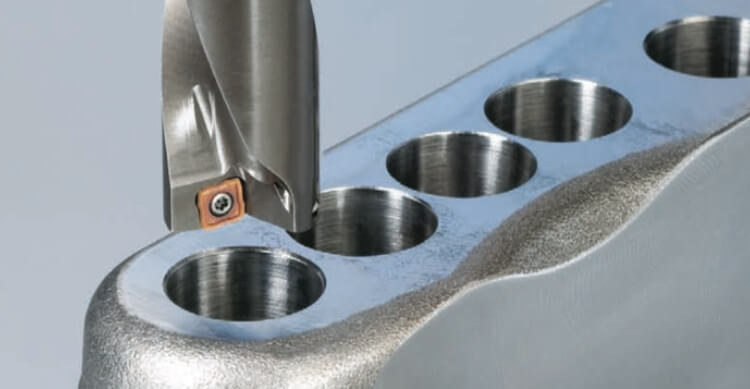 Holemaking
Hole-making is a class of machining operations that are specifically used to cut a hole into a workpiece. Machining, a material removal process, creates features on a part by cutting away the unwanted material and requires a machine, workpiece, fixture, and cutting tool. Hole-making can be performed on a variety of machines, including general machining equipment such as CNC milling machines or CNC turning machines.
Indexable Drills
Holemaking with indexable drills in standard as well as tailor made to reduce the cycle time of the component used in drilling the holes in different types of machines, these drills work efficiently with low noise. Our drills are precision engineered and are meant for high speed drilling.
---
Solid Carbide Drills
We provide a range of solid carbide drills such as Standard Drills, Slot Drills, Spade Drills and any kind od Special Profile Drills to ensure that our solid carbide drill can effectively complete high-strength work. Our solid carbide drill can be used for mass maintenance and repair. We provide various types of solid carbide drill, such as: bit length, screw machine length, long shape, airplane shape, parabola shape, taper handle shape, fast spiral shape, semicircle shape, straight groove shape, core, masonry, SDS, etc. And our solid carbide drill can help you to have competitive price to complete the work most effectively. The bit is used to drill holes on various materials in mass production, maintenance and repair applications.
---
Reaming
We offer solid carbide reamers and holemills for through hole and blind holes in premium quality, particularly suitable for blind hole drilling and through hole drilling which increase your efficiency and process reliability in metalworking and cut your costs per drilling.