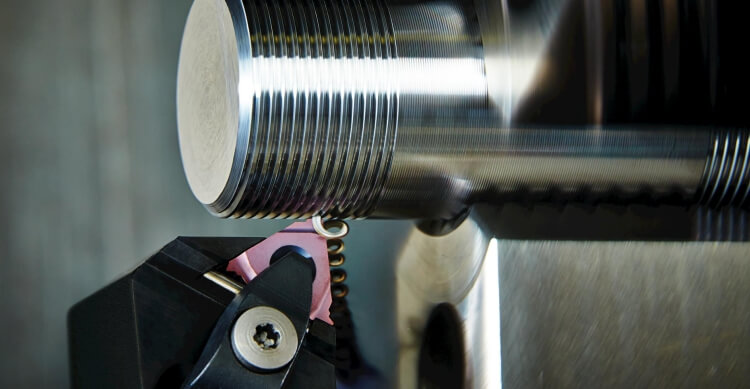 Threading
There are a variety of threading methods and tools suitable as per different components, thread profiles and pitches. Each threading method and tool has its own advantages. To help you to successfully perform productive and high-quality threading, we have provided the following solutions.
Thread Turning
Thread turning is a demanding operation, where good chip control, consistent tool life and consistent component quality can be difficult to achieve. The thread turning tool makes a number of passes to generate a thread on the workpiece. By dividing the full cutting depth of the thread into a series of small cuts, the sensitive nose radius of the insert is not overloaded.
---
Thread Milling
Thread milling produces threads with the circular ramping movement of a rotating tool. The lateral movement of the tool in one revolution creates the thread pitch. Although not as widely used as thread turning, thread milling achieves high productivity in certain applications.
---
Tapping
Tapping is an easy, well known and highly efficient manufacturing process. This method offers productive and economical threading, especially for smaller threads, through reduced machine downtime, higher cutting speeds and longer tool life. Forming taps and cutting taps come in different designs. Tapping covers the most common thread profiles and is suitable for all kinds of machine types with both rotating and non-rotating components.